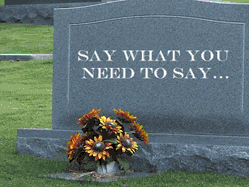 lets you easily send a funeral notice to alert your friends an family of the passing of someone you love. You can share pictures, memories, and condolences at any time from anywhere in the world. Send a Funeral Notice for your family member today!
I want to Send a Funeral Notice for :
First Name
Last Name
Send Funeral Notice

Step 1 : Write your loved one's life story, express your thoughts on their service and their lifetime, announce the time and place of an event or a memorial in their name.

Step 2 : Connect via email or Facebook to invite friends, co-workers and family from around the world to contribute and share their memories of your loved one.
Step 3: Share your photos and memories with everyone you invite. Allow visitors to add their own photos, express their feelings, pay tribute, and condolences on your own Memorial Wall.