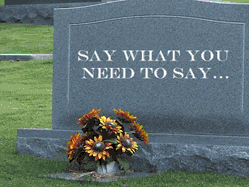 is a social network where you create and maintain a place to share memories of your loved ones. Your Online Memorial is a community of family and friends that you invite. You can share pictures, memories, and condolences at any time from anywhere in the world. Create an Online Memorial Today!
I want to Create an Online Memorial Website for:
First Name
Last Name
Create Memorial

Step 1 : Write your loved one's life story, express your thoughts on their service and their lifetime, announce the time and place of an event or a memorial in their name.

Step 2 : Connect via email or Facebook to invite friends, co-workers and family from around the world to contribute and share their memories of your loved one.
Step 3: Share your photos and memories with everyone you invite. Allow visitors to add their own photos, express their feelings, pay tribute, and condolences on your own Memorial Wall.